The conveyor system is designed taking into account the type and volume of customer's production. Our company can offer, both the whole conveyor systems designed by our experts, and individual components for conveyors.
Conveyors are used for PET, glass bottles and cans.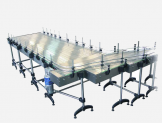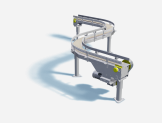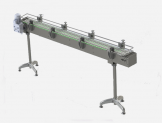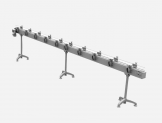 Air conveyors for empty PET bottles, which provide movement of empty bottles from the blowing equipment to the bottling line. The bottles are suspended for the neck flange and moved by air flow, both laterally and vertically. The conveyor is made of stainless steel.
Plate conveyors are used for PET, glass bottles and cans. Depending on the containers used by a customer, metal or plastic tapes can be used.
Roller conveyors consisting of a group of rollers whose axes are secured in the fixed frame and are mounted on racks. Are used for transportation PET bottles, glass bottles and cans from packing machine to palletizing section.
Projects with our
equipment
Contact us -We wil take care of the whole process
We will find
out your
needs
we will
produce the
product you
need
we
export
all over
the world